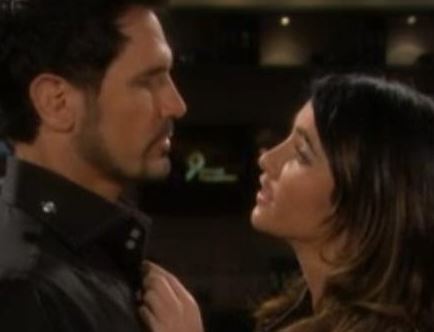 Feb 4, Bill And Ridge's Common Goal. The only thing that Bill and Ridge have in common is that they both want Steffy's marriage to heal. Even though. Wyatt and Brooke both made the choice to testify for Bill, which is surprising considering that Wyatt and Katie had such a relationship recently, but he might It's our goal in life to see what these stars have to say and how this all works for them. Jun 11, This Pin was discovered by Genevieve Cottrill. Discover (and save!) your own Pins on Pinterest.
Many things have happened that have added on to it, which makes it great, because at one point there is that love for Bill, even though she is not showing it right now. After he threatens to throw Taylor in jail, that makes Steffy become very protective of her mom. Right now, her mom is extremely weak and frail, and not in the right head space at the moment.
Knowing that; it kind of disgusts her in what he is doing, and it made her look at him quite differently.
What's Happening on The Bold and the Beautiful
What's Next on the Bold and the Beautiful
DAYS OF OUR LIVES: Lucas Says Goodbye To Salem, While Julie Recalls Coming Back To Town
She is also looking at Liam quite differently. Steffy does not want to be a carbon copy of her mom, and watching her mom believing in her dad about monogamy. Steffy will fight for her family to be together, but not if Liam is constantly flip-flopping and sleeping with her, and sleeping with Hope.
She owes it to her daughter to be a strong mother, and that she provides emotional stability for her. Right now as new parents, there is that love that is going to be there, but again, she is really thinking about her daughter in all of this.
Liam put Steffy through hell for the last year. She is supposed to be OK with the questionable things he does? To Liam she is like: I mean, the writing is kind of on the wall.
Bill has been so many things to Steffy. He has been somebody that she loves; and he has been somebody that she has hated. He has been someone that she can lean on.
B&B Blowout: When doing right goes wrong - B&B Two Scoops Commentary
So, she cannot deny those times they have been together, even years ago, they still had something. There was no alcohol involved when they slept together, and so it definitely meant something.
She can deny that all she wants. With Sally back in town and Hope as well, and Liam bouncing from woman to woman over the past year or more, what does Steffy think of all of that?
One of which is trying to avoid Bill like the plaque, and trying to get him out of her life so she can focus on taking care of her daughter, and being able to take care of her family. She is sleep deprived. There are moments of her being upset over Liam almost marrying Hope, and moments of her being insecure and questioning things … and then there is what happened before between Liam and Sally!
That is questionable, too. There is such history. Steffy was really trying to accept Liam back into her life, but it has to be with a clean slate, Photo Credit: They certainly looked happy together! Liam is definitively seeing that something has shifted in Steffy. You know, how these tests can get screwed up on the soaps? People were fighting on Twitter just the other day about who was the true father of Kelly. Whoa, Whoa Whoa Whoa, you never know. I love working with them. The other day, Annika came over to my house, and it can be challenging coming in as a recast and replacing a person, and kind of finding this character, and still being respectful of the character.
At the beginning, you are trying to find that fine line of whether to be respectful of the actor before you, and kind of playing what they did and in their style, or taking risks and doing it your own way.
As for Courtney; she is fun and so vivacious, and such a badass. I think this show needs that. There is a lot of our storyline coming up, which I am very excited to see on-screen. You had quite a lot of great work to choose from. But doing right is never without its consequences, as Steffy, Katie, and Brooke learned of their entanglements with Bill.
Katie believed that taking sole custody of Will was best for him -- until Brooke told her that it had happened in the wrongest way possible. Even though Brooke busted Ridge for doing the wrong thing, she set out to make it right by burdening Katie with privately reversing the judge's custody decision and keeping Ridge out of legal jeopardy for tampering with a judge. Ridge has no idea how far his wife will go to protect him, but thanks Steffy, a daughter running on half a tank of explosive information, he thinks he knows why Brooke has gone so far to side with Bill.
Most of her life, Steffy sought to break up Brooke and Ridge, and this week, her misguided attempt to protect her father might have achieved that goal, even if she wasn't trying. Speaking of unintentionally trying to break up a couple, it looks as if Sally might have to compete with Quinn for Wyatt's free time at work now that he's back at Forrester. We're overdue for Quinn to chase off another woman in Wyatt's life, but let's pray that Quinn and Wyatt don't accidentally wind up in the steam room together when he means to meet Sally there.
Wyatt and Sally have brought the fire in their new romance, but Sally might get singed by an expected blaze between Steffy and Wyatt. I hope I wasn't the only one to notice the sparks coming off the ex-spouses when he thanked her for helping Sally. Like Superman slathered in kryptonite, Bill struggles to come to grips with losing like regular mortals. Katie empathizes with Bill about the position he's in -- just not enough to stop lording custody over him. Bill is determined to prove what a great father he can be.
Thankfully, Justin convinced Bill that he doesn't have to build private roller coasters to win Will's love. If only Justin could get Bill off his roller-coaster obsession with married women! Bill is over his tainted love affair with Steffy, but like a wild stallion, his untamed fantasies about Brooke are on the loose again. As usual, someone, this time Steffy, caught Brooke in a compromising position with Bill and drew conclusions without hanging around for the letdown. Can Bill do as Brooke asked and respect her marriage to Ridge?
Will Ridge believe Bill's kiss went unrequited by Brooke? Let's get two scoops deep into whether a tiny show of affection can turn the custody battle into an all-out war for Brooke's heart and whether Katie will change course in the custody issue to make things right for Bill.
In case you missed it Wyatt thanked Steffy for hiring his hot lingerie-designing girlfriend. The whole time, he spoke in low, sexy tones, and Steffy gave him the "screw-me" doe eyes before rehiring him as Forrester's social media manager. Sally dreamed of all the dressing rooms she and Wyatt could defile at work, and Quinn fantasized about seeing Wyatt on morning break, lunch break, afternoon break, and goofing-off break.
Yeah, that's not too clingy or anything. McMullen denied it, but Ridge admitted it to Brooke and reveled in the fact that he'd been able to do the right thing for Will and watch Bill suffer at the same time. Brooke told Ridge that he could go to jail, but he said it wasn't happening because she wasn't going to tell anyone about it.
While Bill walked around perplexed about the judge's decision all week, Brooke hinted that she knew exactly how it had happened and assured Bill that he couldn't have done anything to change the judge's mind. Brooke kept her word to Ridge that she wouldn't tell Bill, but she dropped it into Katie's lap for Katie to fix.
Steffy saw it, too, when she almost walked in on Bill kissing Brooke. But, like any half-cocked spy, Steffy trailed off with only part of the information and never saw Brooke tell Bill -- again -- the she was devoted to Ridge. Steffy felt obligated to tell her father what she'd seen, and she said she'd even given Brooke the chance to come clean. Really, Steffy, asking Brooke if there's anything you should know was just as half-assed an effort as leaving early at the scene of the kiss.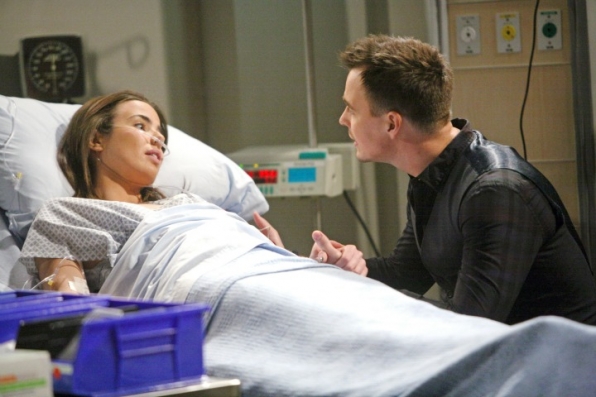 Brooke doesn't even think Ridge needs to know, so why in the world would she tell Stephanie Jr? Ridge wasted very little time in letting Brooke know that he finally knew what was going on between her and Bill. Brooke squinted at him and acted like she didn't know what the heck he was talking about -- because she doesn't. It's a good thing that the Intimates line is heating up because it's about to get frosty cold in Brooke's bedroom.
One would think Katie has an easy decision to make, since watching Bill teach Will how to take over the world made her throw caution and errands to the wind for an entire day.
Thinking things had gone well -- especially since Katie had been too enthralled by him and his son to leave -- Bill made a pitch to toss the new custody agreement off the highest building; however, Katie was like, "Nah, I like my power over you too much. When you're not the one, but you're still the one When Katie's enjoying herself, the errands can wait.
Who needs to grocery shop or hang out at the DMV when you can watch your ex-hubby teach your boy pie charts and world domination?
The Bold and the Beautiful Spoilers: Hope and Steffy Getting Along?
Though it was a turn-on for her to watch Bill be a father and the boss, it sparked nothing for Bill, who realized that Brooke, not Katie, had always been "the one. Katie had a lot of errands to run one day and no nanny to keep Will. The fact that Katie even asked a nanny when Bill would jump through fire to spend time with Will tells you all you need to know about Katie.
Will opted to see his dad instead of hanging out with mom at the dry cleaner, and Bill beamed about Will's decision all week long. She asked Jeremy's dad to pick Will up to save her a trip back to Spencer later in the day. Too bad for Jeremy's father, who braved downtown Los Angeles traffic to pick Will up, Katie was still there when Will's visit with Bill ended. Mother and friend of the year, Katie ain't. It makes it easy for her to relegate Jeremy's dad to traffic hell even when she hasn't even left the location and to shrug off her errands to spy on Will and Bill's visitation.
Father and ex-husband of the year, Bill ain't, or else he'd know Katie well enough to figure out that one day of father-son bonding wouldn't be enough to convince Katie to trust him after a year of disappointments. Is it the best thing for Will to get a second chance with his father, or is it best that Katie continue to relegate him to nannies and his friends' parents when she has other things to do?
Who is really too busy for Will? Is Katie justified in her skepticism about Bill, or does she just not want to be "the one" to help Bill when she wasn't "the one" he'd chosen to remain faithful to? One thing Bill got out of the custody hearing, besides his need to prove everyone wrong about his devotion to Will, is that Katie might have been "the one" to give him his precious son, but she wasn't "the one" he'd ultimately want to spend his life with.
This week, that woman happens to be Brooke -- again. Brooke, however, does want Katie to be "the one," the one to rescue Bill from no-custody purgatory. Katie has to be wondering why she has to be the one to make all the tough decisions while caught between Brooke and Bill all over again. I know that just about every Two Scoops, you guys have to put up with me speculating that Katie really wants to be with Bill, but I mean, come on.
B&B's Jacqueline MacInnes Wood Talks Steffy's Predicament & Her Future With Liam Or Dollar Bill!
Why were her errands so damn important earlier in the day, but once she arrived in Bill's office and saw him with Will, she just plopped down like no one needs cereal and milk in the morning? It's bad enough that Katie wasn't at work -- again -- like the rest of the Forrester employees, and for all we know, she's now driving on an expired license because she skipped the DMV to watch Bill and Will talk about mystery books.
By week's end, Katie was right back over there in Bill's office, letting Bill have even more face time with Will. It's starting to seem like the sole custody thing will take up even more of Katie's time than shared custody if she has to be the one carting Will to visitations and sitting through them just to make sure Bill won't take a call, text, or deal during his time with Will.
After Jeremy's dad picked up Will, Katie remained in Bill's office and ribbed Bill for wanting to pick Will up from school when Bill used to send a driver to do it.
I have to ask -- how is that any better than getting Jeremy's dad, Kyle's mom, or the nanny to do it rather than Bill's driver? It's mighty strange that Katie can hire or talk these people into helping her, but when Bill does it, he's not a hands-on father. Bill wants to be a hands-on father now. He promised to personally sit in the car lane at Will's fancy private school. You know, the one Eric got him into.
The Bold and the Beautiful / Bill Wants Steffy and Liam Together
I'll bet if Bill did that, he'd be the only father sitting there in a sea of hired drivers.